What the most daring users dreamed of two decades ago, when the Internet was just beginning to appear on the surface, is now becoming a reality. Ecommerece now includes more than two trillion dollars of sales and is expected to grow to 4.5 trillion in 2021.
Online sales share a huge market and now most people are literally tied to mobile devices and no marketer or business owner can ignore this phenomenon in e-commerce.
No matter what you sell, you need a constant online presence. The best way to do this is of course the eCommerce website, which will be open to customers absolutely always.
Just because you've set up your own online store doesn't mean you're going to succeed right away. In addition to your marketing and advertising strategy, there are a few important things to do when creating an online store or if you want to be always in the trend and match the latest trends in web design and customer needs.
And so, let's quickly run through the design trends of this year in the world of e-commerce. No matter if you've only started your business online or you're trying to update your online store according to the latest trends, the following tips are likely to help you stay ahead of your competitors and leave your customers satisfied.
In this article we will talk about design trends in e-commerce that will help you to sell better.
Voice interfaces
Most people already use voice interfaces (VUI) when communicating with Siri, Cortana, Ok Google or Alexa Amazon. They are used to interacting with their devices via voice commands and we expect this trend to capture the attention of e-commerce site users.
We may not be able to see voice activated online stores right now, but this is a trend that needs to be closely monitored throughout 2018 and over the next few years as well.
Why? Well, we've all seen how customer behavior affects every area of activity and how every new technology adapts to it. As soon as VUI became popular in recent years, we were expected to see similar technologies that would be exciting to other areas of interest. One such area, given its popularity, is e-commerce.
Mobile design and applications
Following Statista, the penetration of smartphones in the U.S. has only grown from 20.2% to a staggering 68.9% in the last few years. Moreover, the growth is expected to be such that 80% of the population will have their own device by 2022. This means that eCommerce website owners cannot be allowed to ignore this channel.
If you want to be a successful retailer in 2018, you need to upgrade the site so that it is mobile-friendly and thus allow a large demographic to easily shop without any effort.
80% of Alexa's top sites were mobile adaptive. What's more, if you have the budget you need, you can take a step forward and also consider creating your own mobile app for your store.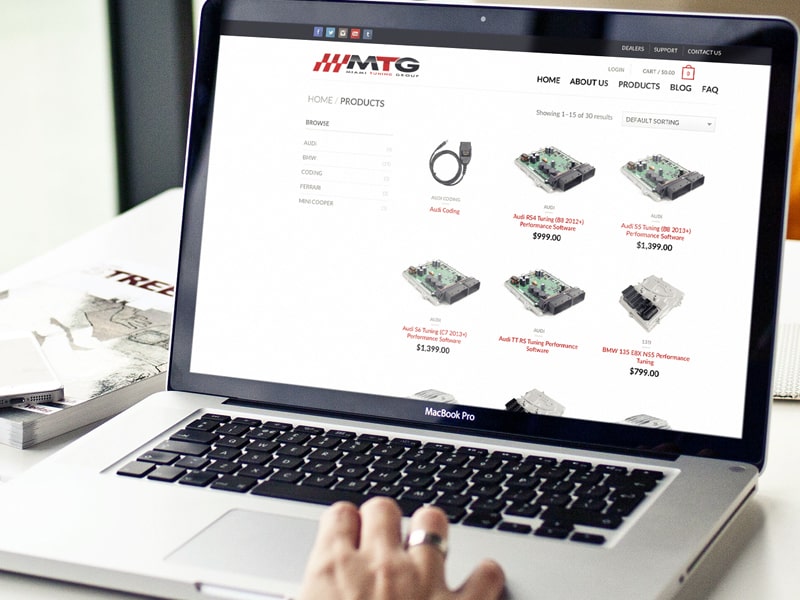 Your customers will find it a much easier shopping solution using the app. At the same time, you'll be able to hold them through the remote alerts and creative content shown inside the app.
More video content
Video content is a trend in 2018 and has been so since the launch of YouTube. So why not use the video tip for your online store? Why not describe your products through professional video clips that can present them better than a piece of copied text?
For example, consider this product from BeardBrand. It contains a short description of the product, which tells the customer everything he needs to know about it. It also shows a few videos that describe the product in use, which is very useful for customers in fact.
Speed and safety
Speed is important and very important. As Kissmetrics states, half of the web users are waiting for the site to be loaded in two seconds or less, otherwise the user is likely to leave the site which has not been loaded in three seconds. 79% of online shoppers who had problems with the website said they did not want to go back to the site and buy there, and about 44% said they would tell their friends about their negative shopping experience.
You can do a speed test with Google Speed Tool and understand how to make your website upload faster.
Another thing you should think about is the security of your site and of course the data. Consider purchasing a VPN, especially if your site is on a local server in your office. VPN can also help you to be anonymous when researching your competitors, provided that you do not want them to know about you.
As a business owner, even if your eCommerce is quite small, you should always do such research and of course keep such things a secret.
Fixed navigation bar
The fixed navigation that follows you during the scrolling of the page is not news. This has long been the case, and 2018 is no exception, in which the design will focus on one of these elements. Consider updating your website with this functionality if you haven't already applied it.
Why? People use navigation through several pages and categories and scroll down to see as many products as possible. Leave users involved and make navigation easier for them by giving them access to the navigation menus wherever they are on the site.
It will also help them to always see the cart button, especially when it shows updates on selected products. Here is a good example of a fixed navigation panel.
Microinteraction
Microinteractions encourage users to interact fully. They are a powerful tool that helps to create a cycle of habits. Facebook notifications about incoming messages are a good example of this, considering them as a usual cycle: a red badge and a whitened icon show that there is a new message, which forces the user to click on the icon of the chat with his friend. Subsequently, users automatically click on the icon when they see the red badge.
How can you integrate micro interaction into your online store? You can simply do this by adding some reward for the actions of users, whether it's a simple subscription to a newsletter or a product added to your shopping cart.
Also, when users are interacting with your site, you can use animations to call up your promotions. If different sections of the site are animated immediately when you shell over them, you can also define this feature as a micro interaction.